An Interdisciplinary Investigation
Restorative and ruinous, excessive and scarce, water sustains life on Earth, alternatively fueling or undermining ecosystems, biodiversity, the global economy, and technological innovation.
To highlight this most precious resource, Columbia is proud to announce the Year of Water. Throughout the next two semesters, the University will hold art exhibits, concerts, lectures, and symposia focused on water in all of its social, political, cultural, economic, and environmental complexities.
"It is exciting for the School of the Arts to spearhead the Year of Water and to play a central role in convening the institutes, schools, and programs at Columbia engaged in important research and action around these vital concerns."
More Events
Past Events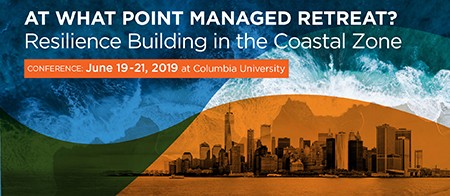 Wednesday, June 19 – Friday, June 21
9:00 am to 5:00 pm
This conference will address a range of issues facing coastal communities in the United States and around the world as sea levels rise and coastal flooding becomes more frequent and intense, bringing together thought leaders to advance the science and policy dialogue. The conference will be of interest to academics, planners, practitioners, and industry representatives from sectors such as real estate and insurance.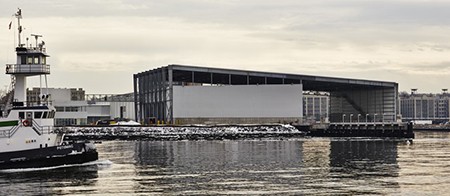 Friday, May 3, 2019 
3:00 pm to  4:15 pm
This state-of-the-art facility processes the largest volume of metal, glass, and plastic in North America—about 1,000 tons a day. Sims also features the largest solar panel array in Brooklyn, the only industrial size wind turbine in the city, and oyster cages, mussel ropes, and bio swales to filter storm water runoff.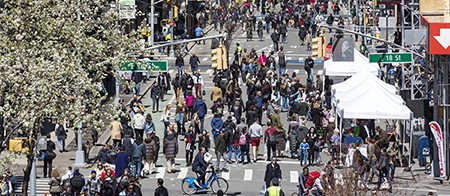 Saturday, April 27
9:00 am to 3:00 pm
Join the Earth Institute at 26th and Broadway for stickers, academic program information, and fun activities with the educational team from Lamont-Doherty Earth Observatory. Time travel through NYC's climate history and discover what life would have been like in different climates and time periods!
Centers on Water Research
Dozens of research centers and departments across Columbia are engaged in interdisciplinary research on water. Here are a few of them.